Bylaws and Policies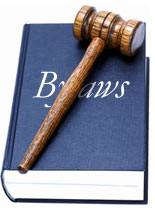 A Bylaw is a law passed by the council. Bylaws can be enforced by bylaw enforcement officers, police and peace officers in the municipality or any other designated officer as appointed by Council.
If residents, ratepayers, business owners and visitors in the municipality do not follow the rules and guidelines set out by a bylaw, they can be fined or given penalties, and they must be informed in writing by Council through Administration that they are in breach of the bylaw and a specific statute, section and part pertaining to the Bylaw in question. 
Policies are made by councils to set guidelines that the municipalities follow. These guidelines can describe how services (service levels/delivery) and programs will be provided by a municipality.
The Chief Administrative Officer and municipal employees are responsible for following these policies.
Decisions (socio-economic) that Councils and Councillors make are visible and implemented in the policies and bylaws of a municipality.
Open Government
Bylaws 2020
Bylaws 2019
Policies 2019
Policies 2018
Other Policies
Municipal Development Plan 2013
Meeting Procedure and Guidelines 2017
Alberta Government
Municipal Affairs
Fire Agreement Sturgeon County 2015
Public Hearing October 25, 2018 @ 6pm Sandy Beach Hall Highway 642
All of the above have received First Reading on Sept 20 at 7 pm at Regular Council - Sandy Beach Community Hall
A Public Hearing is schedule for October 25 at 6 pm at the Hall for the Land Use Bylaw Amendments Cannabis - Bylaw 04-2018 - this whole bylaw will be added to the existing Land Use Bylaw 02-2012 - its a new bylaw.
A Public Participation Meeting will follow after the Public Hearing on Dog Bylaw 05-2018, CAO Bylaw 06-2018 and Roadside Mowing Policy PPP002-18.  The Dog Bylaw and CAO Bylaw has amendments that is marked in yellow - the existing Bylaws is available on this same page and still in effect.  The Roadside Mowing Policy is a new document and policy.
Other matters as part of Regular Council (which starts at 6 pm) will follow after the above matters has been concluded.
Documents can be requested from the office svsandyb@xplornet.ca or inspected at office on Tuesday and Wednesdays 10 am to 3 pm between Sept 21 to deadline for comment Oct 23 4pm.
Good Practice
Dogs
Dogs must be on leash off property
Keep 3 dogs 
Do not allow barking to disturb others - maintain quiet hours and muzzle when away
Remove defecation left by dog(s) everywhere
Do not allow dog to run loose - please report all strays to SPCA they pick up regardless
Dogs not allowed on industrial areas
Dogs must not hurt or threaten anyone
Be responsible and respectful please
ATV's
speed limits must be maintained
not in ditches
not on public property like day park or beaches
must where helmets
no alcohol
Be responsible and respectful please
Fire's
no open fires - pits only and must have cover
no fireworks
adhere to Village postings
have water back up ready
call outs has a $1,220 charge - Sturgeon County is provider
do not leave fire unattended or overnight - WATER, STIR, WATER, STIR, WATER!
Be responsible and respectful please
Loading