Lagoon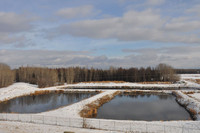 Update February 2019
the discharge application has now been submitted to AEPCC for approval - the attached operational plan on page 20 shows the discharge plan - residents on Lakeshore Drive please note the exact distribution - All residents and visitors caution - if the discharge is approved this area is off limits regardless mode of movement.  
Vegetation has been unaffected by earlier discharges and gypsum will be added to reduce saline content.
Update Nov 2018
Proposed Sampling Locations 2018 (Nov) - 2019 
AEP is requiring the Summer Village to complete the requested soil testing and reports to proceed with an discharge approval.
Joint Lagoon Committee
2019
2018
Lagoon 2018
All Residents please note that as of February 1 2018 due to the lagoon closure there will be a rate increase for wastewater disposal.  Please contact your service provider for more details.  
Lagoon Emergency Response Protocol 2018
Loading