Lagoon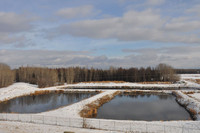 Proposed Sampling Locations 2018 (Nov) - 2019 
AEP is requiring the Summer Village to complete the requested soil testing and reports to proceed with an discharge approval.
Joint Lagoon Committee 2018
Lagoon 2018
All Residents please note that as of February 1 2018 due to the lagoon closure there will be a rate increase for wastewater disposal.  Please contact your service provider for more details.  
Lagoon Emergency Response Protocol 2018
Loading