Back to News Listing
NO Fire BAN, Restriction or Advisory in Effect June 21-2023: SB follow Sturgeon County so what they update is applicable to us.
July 18 2023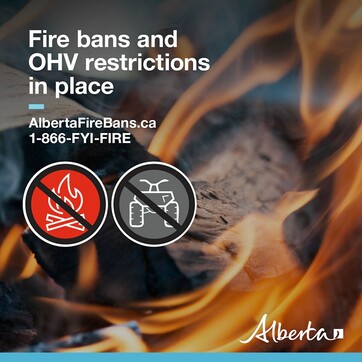 Current Fire Level
There is no advisory, restriction or ban in effect. June 21-2023
REMEMBER Sandy Beach has a policy that states if Sturgeon County has a fire ban Sandy Beach also has - so check Sturgeon County Fire Ban updates here 
Effective today (May 31) at 4 p.m., Sturgeon County and the towns of Bon Accord, Legal and Redwater and Sandy Beach are under a fire restriction.
The fire and OHV ban issued earlier this month has been lifted; however, open fires – including burn barrels and incinerators – and fireworks are not allowed.
All outdoor fires presently burning must be extinguished. No new burn permits or fireworks permits will be issued, and all permits previously issued remain suspended.
You can use the following:
recreational firepits for warming or cooking
OHVs and ATVs
charcoal/pellet barbecues
propane/natural gas barbecues
charcoal/pellet appliances, like smokers
propane/natural gas appliances, like patio heaters and fire tables
electric appliances, like smokers
outdoor fireplaces/chimeneas
Sturgeon County/Sandy Beach urges the public to use extreme caution when working or driving in grassy areas and to keep vehicles clean and free of debris as smoldering debris can start fires.
This restriction does not apply to the use of ATVs or OHVs.
For updates, visit albertafirebans.ca.
Fire Advisory
Fire advisories let you know that the fire hazard rating has increased and that restrictions may be placed on some types of burning.
Fire Restriction
During a fire restriction, some types of burning are not allowed while others can continue. You should read the details of the fire restriction for specific instructions.
Fire Ban
During a fire ban,  most types of fire use is not allowed. You should read the details of the fire ban for specific instructions.
Total FIRE & OHV BAN in effect: UPDATED May 26 2023
REMEMBER Sandy Beach has a policy that states if Sturgeon County has a fire ban Sandy Beach also has - so check Sturgeon County Fire Ban updates here 
If the County has revised their bans you can follow suit - our website fire ban might lag in update but as soon as the County's Fire Bans are updated you can follow their direction.
Summer Village of Sandy Beach: Total Fire Ban in Effect
Effective 01:00 pm, May 16, 2023, Sandy Beach (as per policy 2015) has upgraded its fire advisory to a full 
FIRE BAN
. 
No outdoor fires are permitted until further notice, including:
Recreational fire pits - designated or not
Open fires (brush, bonfire)
Burn barrels
Fireworks
Chimeneas
Solid fuel barbecues (charcoal, pellets etc.)
Campground fire pit fires - designated or not
Cooking and recreational appliances that can be turned off using a switch or valve (fire table, electric smoker, propane, or natural gas barbecues) are allowed.
The FIRE BAN will remain in effect until further notice.
UPDATE as of May 5 at 8:40 p.m.: Off-highway vehicle (OHV) use is not allowed. A provincial OHV restriction is in place, which means the recreational use of OHVs on public land, including on designated OHV trails, is not allowed. 
Always know your location and Dial 911 for any emergency!
Note: This Fire Ban also applies within all municipal lands
All other inquires or fire reports contact 780-718-1849 (text)
NEW Fire permits will not be issued and FIRE Works are BANNED altogether.  Bonfires are banned altogether: until further notice.
A COMPLETE Fire Ban is in effect for brush pile fires, slash pile fires AND the use of burn barrels. This Fire Ban also includes backwoods or wood fires in outdoor recreation facilities such as group campsites, gazebos, tee pees, and wood burning stoves inside tent-like structures.
FIREWORKS are NOT ALLOWED AND BANNED until further notice.
More Fire Info
FIRE CALL OUTS (Sturgeon County) will have a charge to your tax roll - as much as $2,000 - make sure you have insurance.  The Village pays the bill up front and then recover it from the roll.  You will not be notified in advance.
As DRY conditions with moderate to stronger winds persist, the Summer Village will not authorize Low Hazard Fire Permits (large pile burns).  Winds of over 15 kph is NOT conducive to recreational fires or pile burns and under the fire advisory ONLY back yard fires in designated fire pits (no open fires) with spark screens are allowed.
All back yard fires (when the weather permits) must be in designated fire pits only and have sufficient fire suppression available and must be monitored; fires must be adequately covered with a spark grill/screen and responsibly fed. 
All back yard fires (in designated fire pits only) and pile burns (if approved through a permit) must be fed slowly.  No open fires are allowed anywhere within the Village boundaries.
DO NOT leave your fire unattended, no matter what the weather is.
Recreational/Back Yard fire's does not require a fire permit but must be made in a industry standard approved fire pit with the appropriate setback of at least 15 feet from any structure and covered with a adequate spark grill or screen.
Do not leave your backyard fire unattended and stir, douse, stir, douse at the end of the night.
Currently Fire Permits for large pile burning will NOT be allowed neither with caution and nor continuous monitoring.
Burn barrels, cooking or warming fires in approved back yard fire pits ONLY are allowed subject to the conditions stated above and no permit is required.  A Fire Pit Spark Cover is a MUST - OPEN Fires except under permit conditional approval (like large pile burns) are NOT allowed.
Keep your Chimney closed with appropriate venting and install a spark arrester.